Precise machines in one place
Our powerful technological facilities placed in one building allow to produce in unusual quality. Having all machines in one place shorten production time to necessary minimum. Moreover, quality control is much easier at every stage. What is also very important for us is precision during production process, which reaches even 0.2mm in many cases!
The most innovative technologies
We always put a great emphasis on the development of our machinery park. We select high-tech solutions proven by European manufacturers. Close cooperation with our technoligical suppliers gives us possibility to jointly improve our abilities in the field of plastic processing and to increase our range of possessed technologies.
Prepared for mass productions
All of our machines are designed for 3 shift operations. Due to the market nature and our customer needs, the production of thousands pieces is held multi-shift, what shortens delivery times. Thanks to verified machines, every single piece from mass-production is the same in dimensions and colors.
Our machines
Eurolaser XL-3200
Our newest laser cutting system. Huge dimensions of this machine, allow to cut up to size of 2,270 x 3,200 mm. It is used for cutting and engraving acrylic up to thickness of 30mm. Advanced motorics of Swiss company Zund allow to achieve precision up to 0,2 mm. Further machine is equipped with Optical Recognition System which identifies fiducial marks.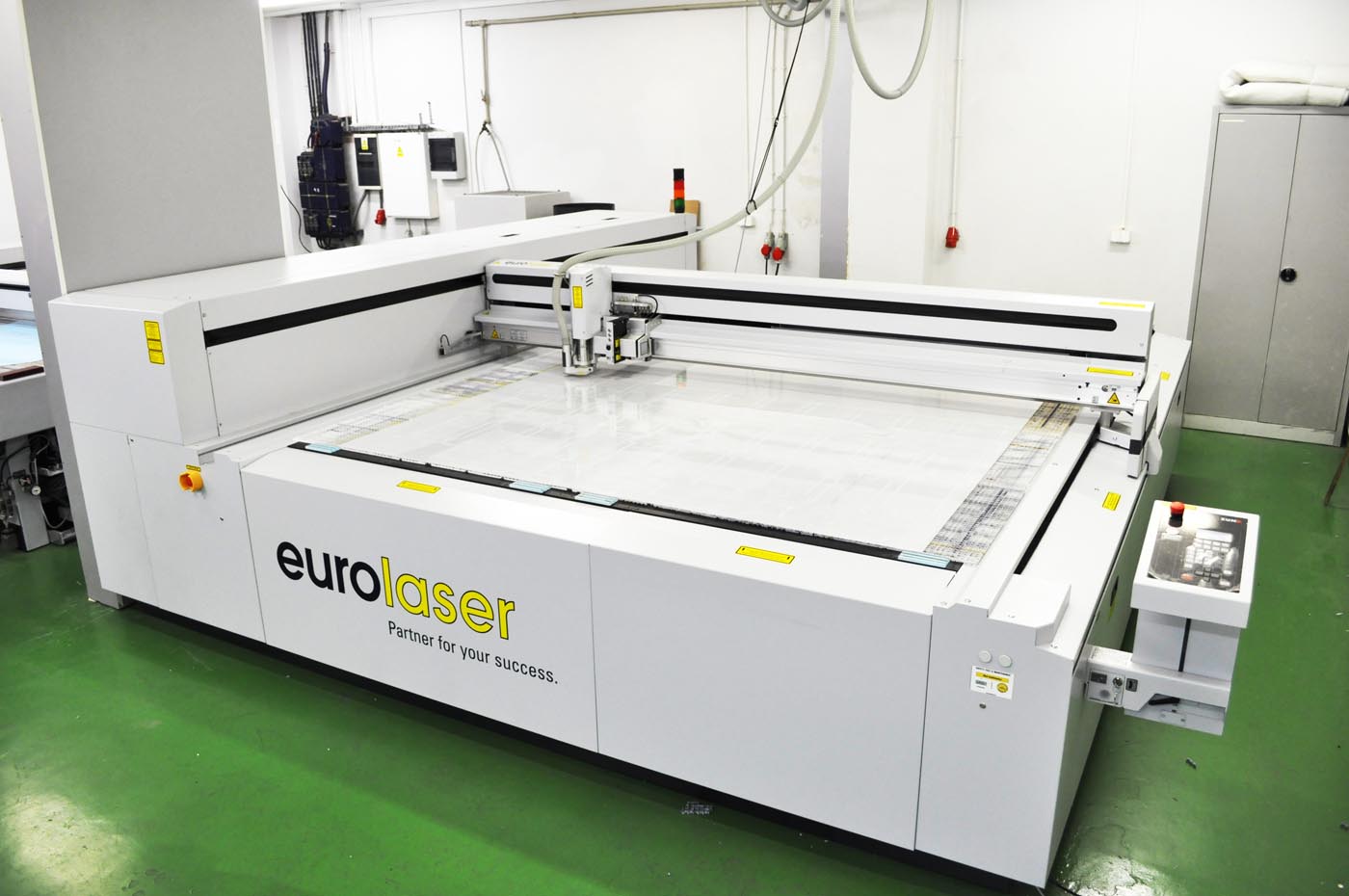 Eurolaser XL-3000
It is an another laser cutting and engraving machine. A large working table allows to process full acrylic sheets up to the size of 2200 mm x 3000 mm. 400 Watt laser system allows to cut acrylic up to 30mm thick with precision of 0.2 mm. This machine is also equipped with a Optical Recognition System which identifies fiducial marks.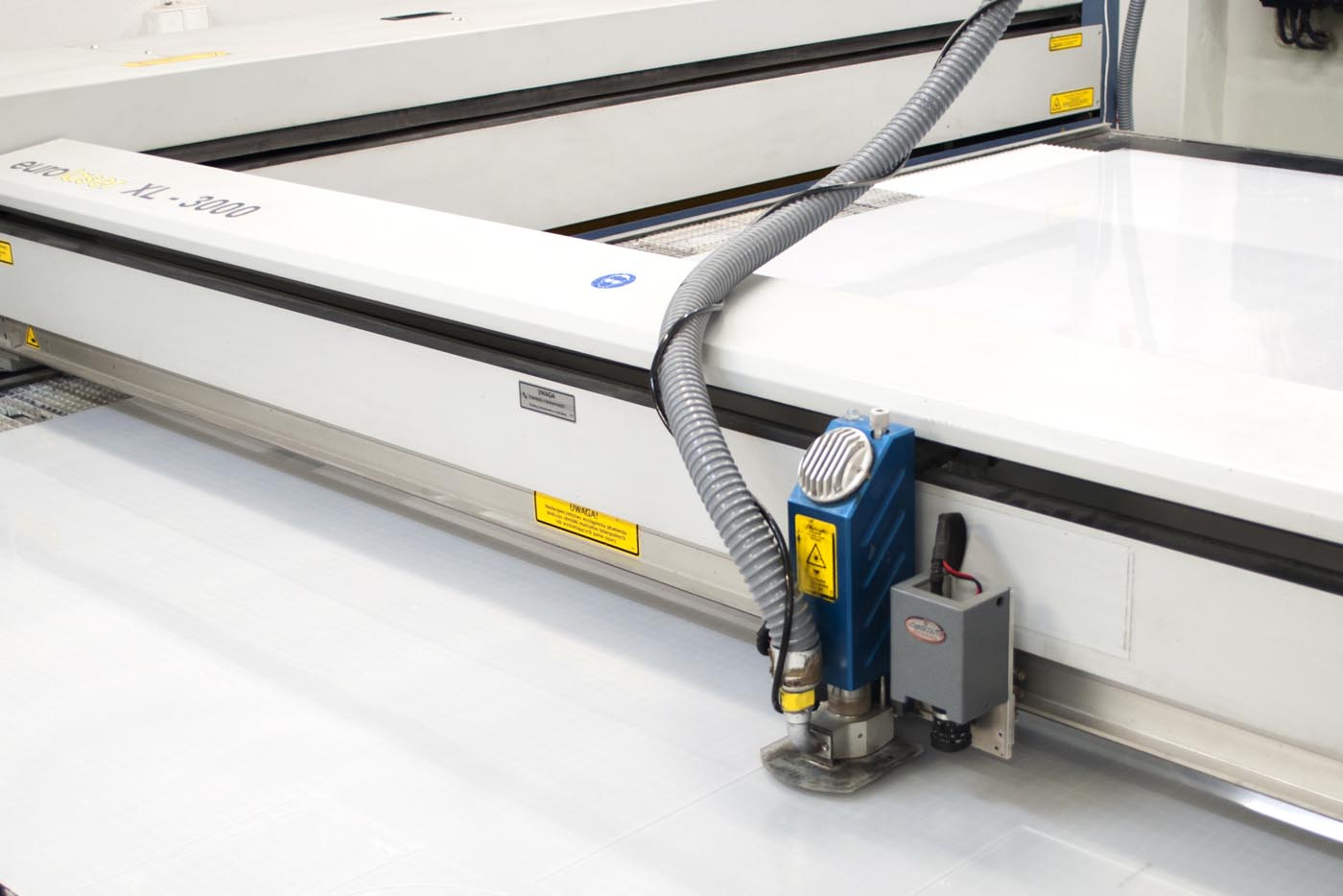 Schelling fk6 330
This is the most modern beam saw for cutting all plastics, delivered by Schelling Austria. The machine cuts sheet packages with incredible precision up to 0.1mm at 3 meters in length. The maximum size of processed materials is 330x330cm, the height of package is maximum 100mm.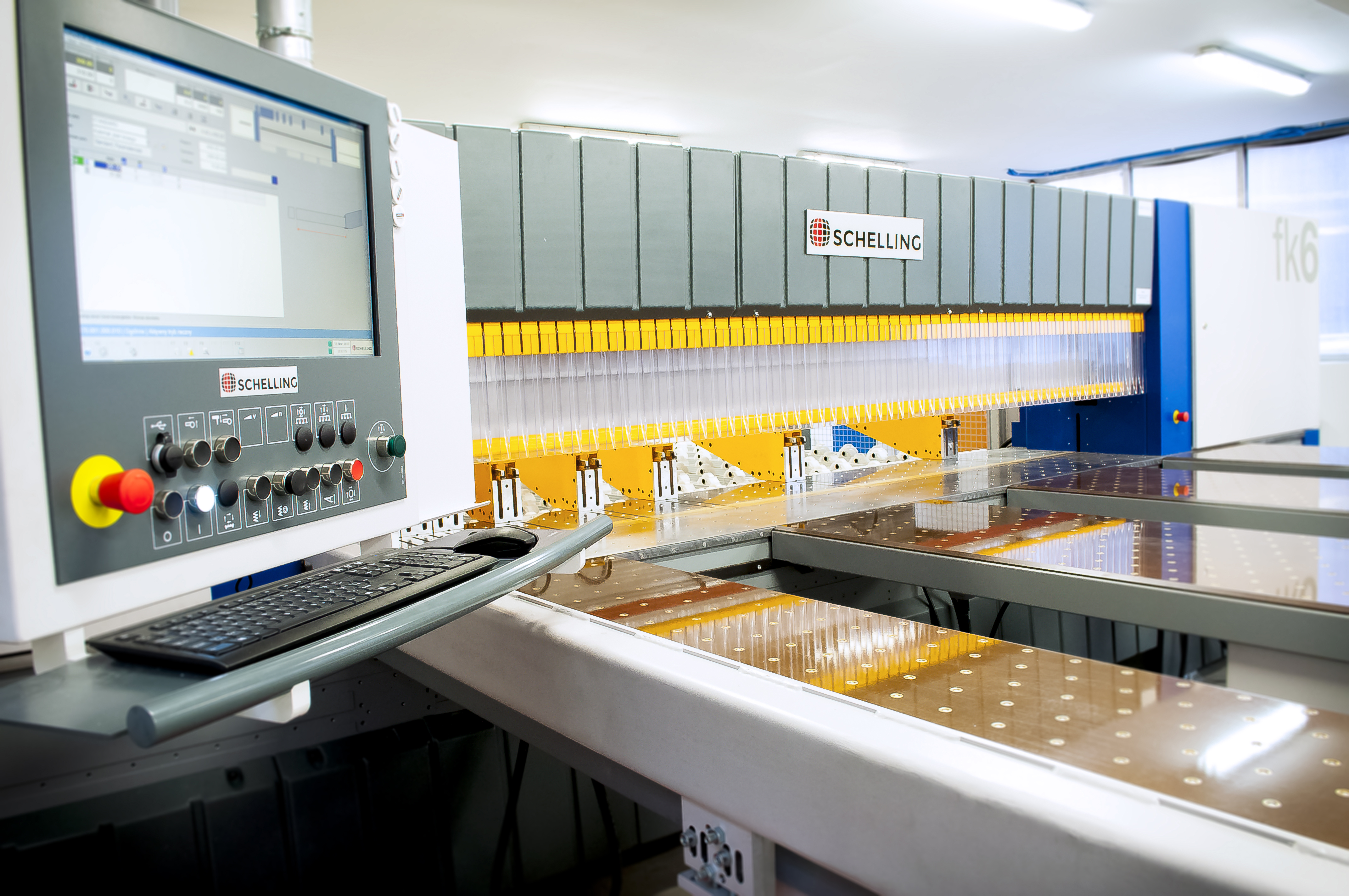 Bermaq AMI
The unique construction of our diamond polishing machine allows to reach highest quality of polished edges. The material remains stationary during the process of polishing, which helps to avoid in quality loss. The working length is 2000 mm, in the angular graduated scale ranges from -5º to +60º. The maximum thickness of polished material is 100 mm. Various diamond inserts give the possibility to get an edge glossy or mat.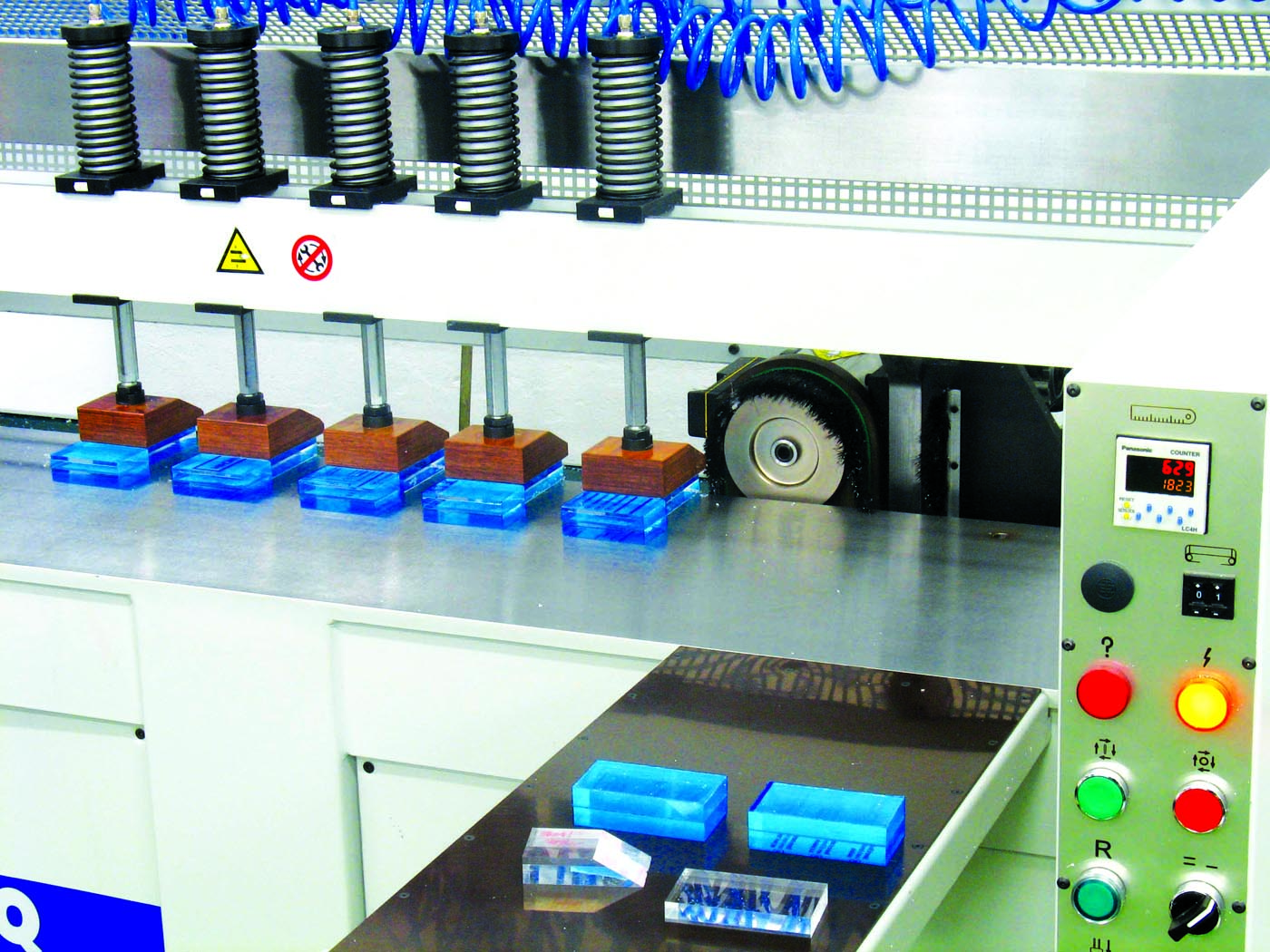 Kimla BPF2140
Our largest and fastest CNC cutting machine with workspace of 2100x 4000 mm and speed of 1 mm / s. The 9 kW spindle with the automatic tool changing system and rotary storage riding on the moving gantry allow to the fast and efficient work with multiple tools. By using appropriate cutters, we are able to cut and engrave not only plastics but also many others materials.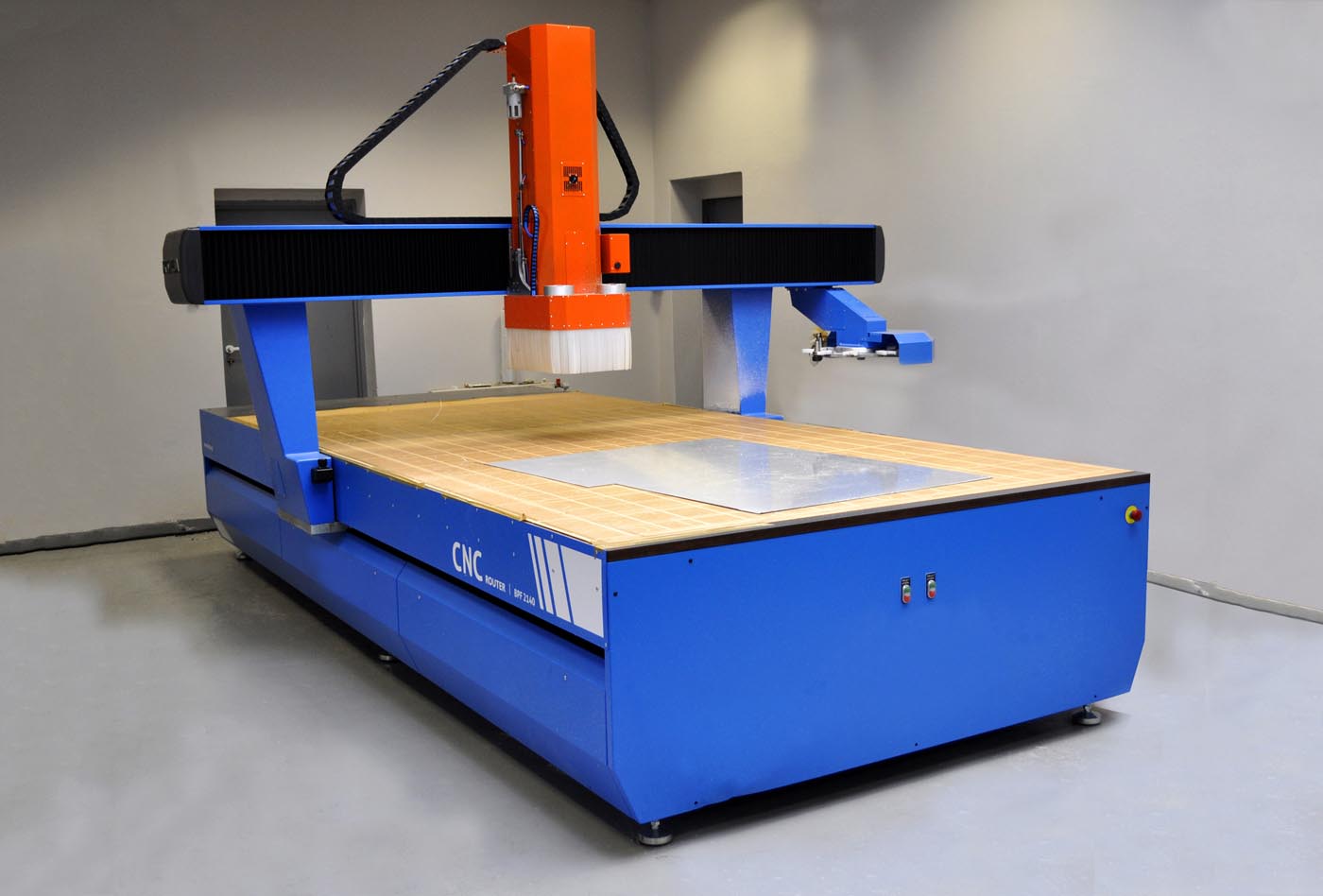 Kimla BFN2030
CNC cutting machine is mainly used for cutting plates of the size of 2000 mm x 3000 mm. The 8.5 kW spindle is perfect while processing of dibond, acrylic, PVC and polystyrene.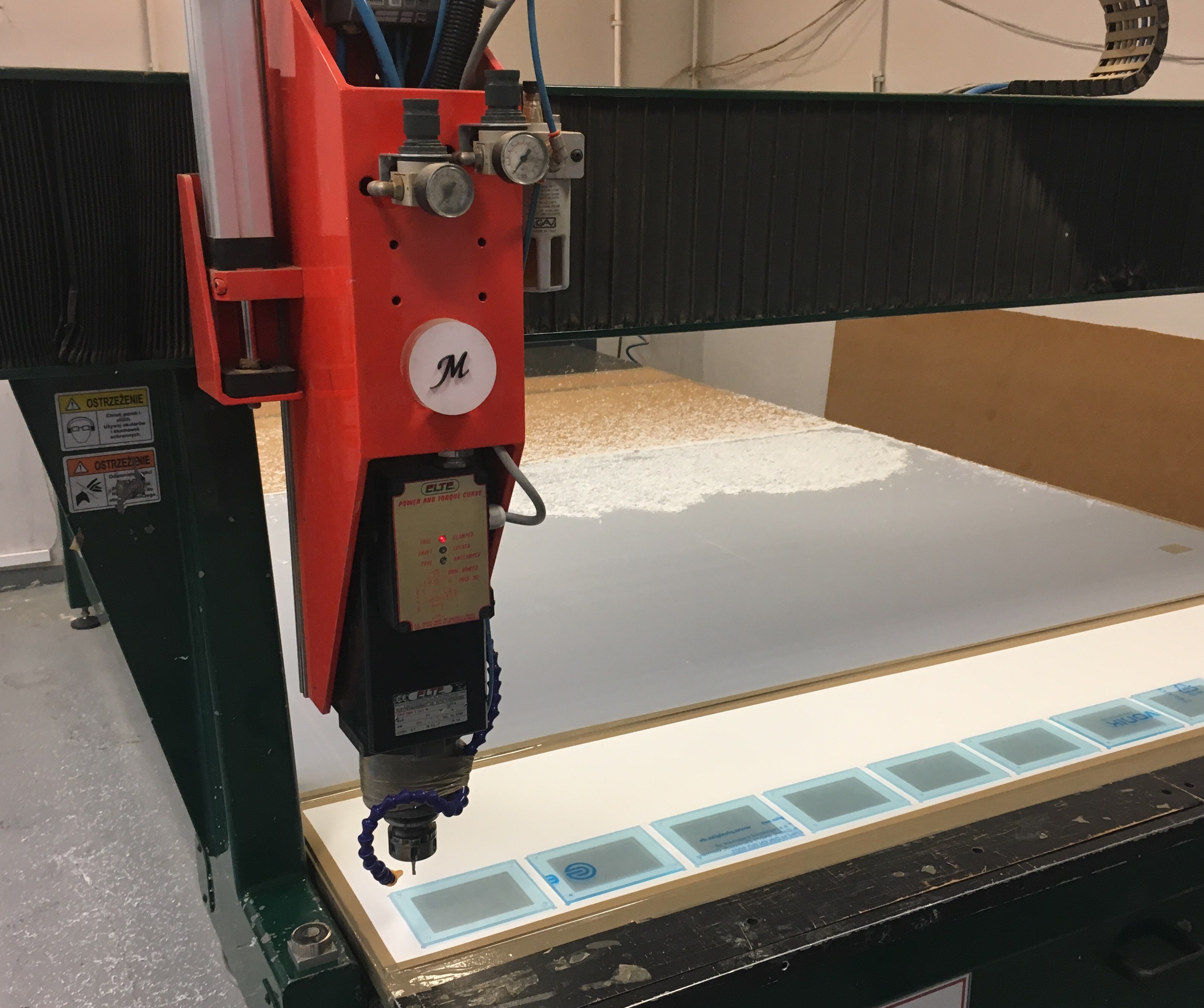 AGFA Mira 2716
It's one of the latest UV printers from Belgian AGFA company that allows us to print at almost any rigid material. We print up to 50mm and size of 2690x1600mm, based on CMYKlcm with white and primer. Impressive speed up to 205m2/h and exeptional quality of print in 1200dpi resolution are its biggest strengths. This is a true industrial UV plotter, orientated to work in 3 shifts.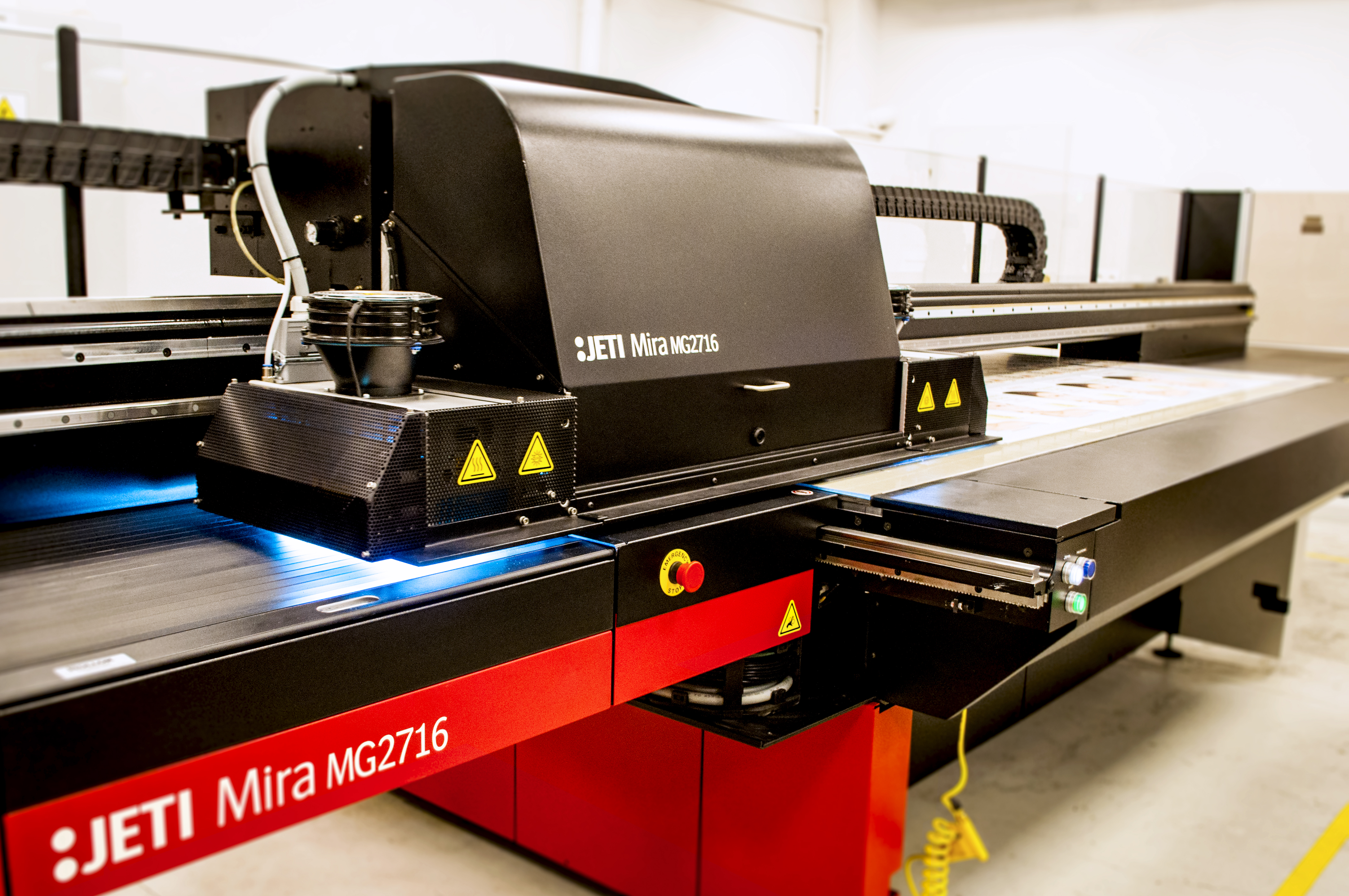 AGFA Jeti 1224 HDC
This is another Agfa printer used in our machinery park, to print on any hard material. It can reach speed of 95m2/h in 1200dpi resolution, on rigid materials up to 50mm of thickness. It's basic strength is exceptional quality using CMYK and white colour.
Shannon HRP/D 300
We own a lot of bending machines, but this particular one deserves special attention. It is a semi-automatic bender for all thermoplastic materials enabling to express serial productions. Double heating lines allow to process thicker materials keeping required quality.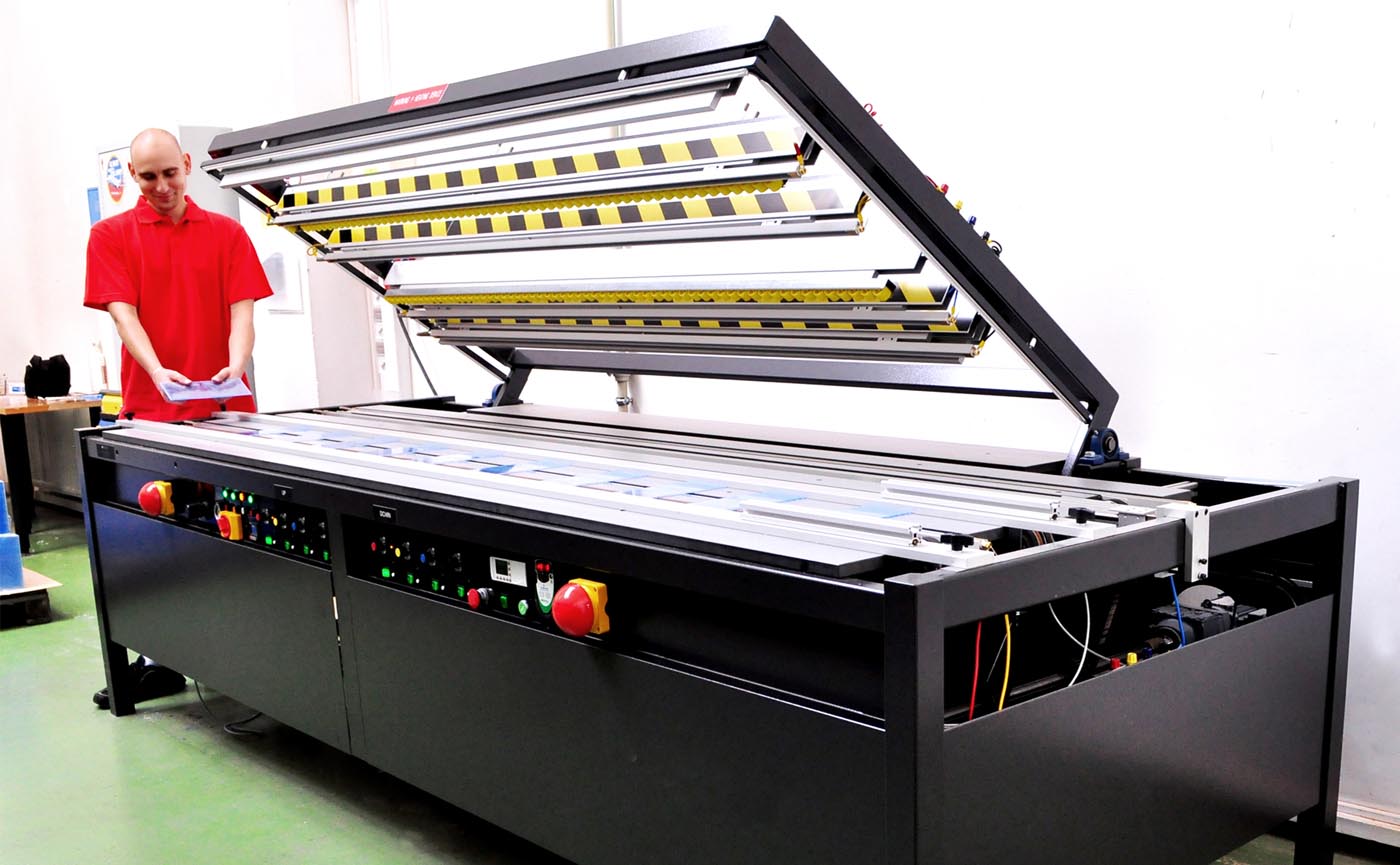 Gluing
This is a very important part of the whole technological process. Using three different methods of joining we are able to gain the desired effect of bonding. We use solvent, reactive, and light-cured glues of verified European manufacturers. Aesthetics and strength of combining of two elements are very important for us, that is why we select the appropriate and individual technology each time.
Thermoforming
There are three machines for vacuum thermoforming in Contra The working surface of the biggest machine is 1960 x 1500 mm, and regarding the production of acrylic hemispheres it is maximum diameter of 1 meter.
Screenprint
Having three screen printing machines, we are able to print the most difficult logotypes on any product offered by us. The largest print size, considering this technology, is 2000 mm x 1000 mm. We print using the most popular colors, according to color palettes provided by verified suppliers of paints.